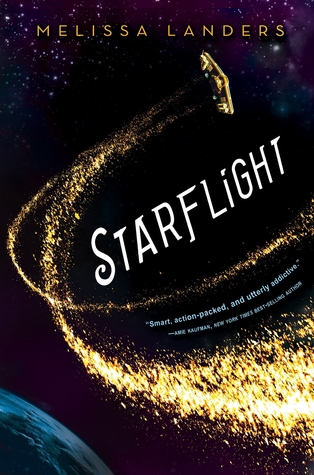 Titel:
Starflight
Författare:
Melissa Landers
Serie:
Starflight #1
Sidor:
359
Life in the outer realm is a lawless, dirty, hard existence, and Solara Brooks is hungry for it. Just out of the orphanage, she needs a fresh start in a place where nobody cares about the engine grease beneath her fingernails or the felony tattoos across her knuckles. She's so desperate to reach the realm that she's willing to indenture herself to Doran Spaulding, the rich and popular quarterback who made her life miserable all through high school, in exchange for passage aboard the spaceliner Zenith.

When a twist of fate lands them instead on the Banshee, a vessel of dubious repute, Doran learns he's been framed on Earth for conspiracy. As he pursues a set of mysterious coordinates rumored to hold the key to clearing his name, he and Solara must get past their enmity to work together and evade those out for their arrest. Life on the Banshee may be tumultuous, but as Solara and Doran are forced to question everything they once believed about their world—and each other—the ship becomes home, and the eccentric crew family. But what Solara and Doran discover on the mysterious Planet X has the power to not only alter their lives, but the existence of everyone in the universe...
Eftersom jag tycker mycket om Melissa Landers tidigare böcker (Alienated serien) så hamnade givetvis hennes nya bok, Starflight, även den på min att läsa lista. Jag måste dock erkänna att jag var lite, lite tveksam innan jag påbörjade den, men det hade jag inte behövt vara, för det visade sig att jag absolut älskade den här boken.

Handlingen fick mig att fastna från första sekunden, och det är så mycket som pågår. Rymdpirater, ett gäng halvt om halvt kriminella outcasts, romans, action, spänning. You name it. Och allt utspelar sig i rymden. Dessutom var den så himla rolig. Lägg även till en riktigt het romans, som verkligen fick tid på sig att utvecklas, och då har vi vad jag kallar ett mycket vinnande koncept. Den här boken är lite det jag önskade att Mindee Arnetts Avalon skulle ha varit, och Starflight hamnar givetvis i min favorithylla.

Karaktärerna var också fantastiska. Jag älskade Solara redan från början, och hennes tuffhet och humor fick mig helt på fall. Doran däremot avskydde jag nog nästan lika mycket som Solara gjorde där i början. Men hans utveckling och personlighet vann i slutet, och romansen mellan de båda var verkligen spot on. Jag älskar dessutom när det börjar med hat och slutar i kärlek. Jag tyckte även mycket om bi-karaktärerna, då allra helst Kane och Cassia.

Det mesta med den här boken var alldeles enastående bra, och jag gillade särskilt slutet. Jag hade inte förväntat mig att tycka så här mycket om boken, men den gav mig så mycket lyckokänslor. Rekommenderas varmt, till absolut alla.