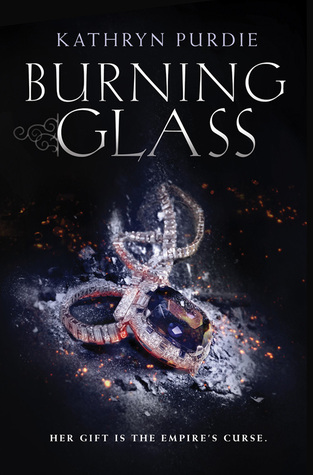 Titel:
Burning Glass
Författare:
Kathryn Purdie
Serie:
Burning Glass #1
Sidor:
490
Sonya was born with the rare gift to feel what those around her feel—both physically and emotionally—a gift she's kept hidden from the empire for seventeen long years. After a reckless mistake wipes out all the other girls with similar abilities, Sonya is hauled off to the palace and forced to serve the emperor as his sovereign Auraseer.

Tasked with sensing the intentions of would-be assassins, Sonya is under constant pressure to protect the emperor. But Sonya's power is untamed and reckless, and she can't always decipher when other people's impulses end and her own begin. In a palace full of warring emotions and looming darkness, Sonya fears that the biggest danger to the empire may be herself.

As she struggles to wrangle her abilities, Sonya seeks refuge in her tenuous alliances with the charming-yet-volatile Emperor Valko and his idealistic younger brother, Anton, the crown prince. But when threats of revolution pit the two brothers against each other, Sonya must choose which brother to trust—and which to betray.
Burning Glass lät som en perfekt bok för mig, så givetvis lade jag till den på min att läsa lista så snart jag hörde talas om den. Förhandsrecensionerna har dock varit ljumma, men mina förväntningar var ändå rätt höga. Och nu i efterhand vet jag helt enkelt inte vad jag ska tycka.
Början var väldigt intressant, men efter ett kort läsuppehåll (en sisådär 80 sidor in) så hann jag bara läsa runt en 10 sidor till innan jag kände att nej, det här är faktiskt inte särskilt bra. Men efter ytterligare 10 sidor så kunde jag inte sluta läsa. Och så pågick hela läsupplevelsen. Jag pendlade mellan inget intresse alls, till att ha läst 100 sidor utan att veta var tiden tog vägen. Mitt största problem var dock att det fanns ingen egentlig handling, och berättelsen var väldigt karaktärsdriven (vilket inte är ett problem i sig, så länge karaktärerna är intressanta). Jag förstår helt enkelt inte hur så lite kunde hända på så många sidor, och jag kan faktiskt inte beskriva vad boken handlade om i dagsläget.
Karaktärerna var inte eller några höjdare, och jag hade särskilda problem att förstå mig på Sonya. Hon har helt enkelt så tråkig. Varken Anton eller Valko var heller några som kommer att stanna i mitt minne, tyvärr. Det bästa jag har att säga är att karaktärerna känns underutvecklade, och kanske skulle ha varit mer spännande med lite djup i sig.
Efter den här recensionen så skulle man kunna anta att Burning Glass har gjort sig förtjänt av ett bottenbetyg. Men eftersom jag knappt kunde lägga ifrån mig den när jag kommit in i den, så hamnar betyget på ett gillar. Jag är dock väldigt förvirrad (vilket kanske även syns på recensionen), så det kan hända att jag kommer att ändra mig i framtiden. Jag kan nog inte rekommendera den, tyvärr, men samtidigt är jag aningen nyfiken på uppföljaren. Så vi får väl se, helt enkelt..